The roadmap identifies areas for action at an industry level. One action area within the roadmap is to ensure that post-use paper sacks achieve a high level of recycling. To achieve this, three pre-existing key elements need to be available:
There must be collection/sorting systems in place that cover significant and relevant geographical areas.
There must be an existing recycling system in place that recycles the packaging.
There must be a harmonised, EU-wide system for engaging consumers with sorting instructions and homogeneous labelling to help with the correct delivery of waste into the appropriate collection streams.
In addition to the presence of these system requirements, producers must strive to ensure that:
The individual package is designed to be compatible with these systems and processes.
Materials are chosen considering the wider sustainability implications of the package across the life cycle.
Within Europe, paper sacks will mostly be collected as part of a mixed stream of paper packaging for recycling. They will then be recycled within standard recycling mills and special recycling mills, along with other papers, to produce recovered paper grades such as corrugated base papers.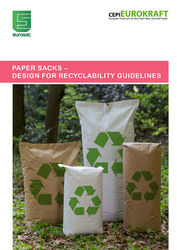 Of course, when considering recyclability, the effect of the contents of the package should also be considered. The presence of product residues can inhibit recycling or potentially significantly reduce the quality of the recovered pulp that is produced. However, these guidelines are aimed at producers and specifiers of paper sacks, and therefore concentrate on the aspects of paper sack design which influence the potential recyclability of the sack at end-of-life, regardless of what the sack is used for and how well the end-user empties and de-dusts the sack. It is important that paper sacks placed on the market today are designed to be compatible with collection and recycling of the mixed packaging paper grades. Through these design for recyclability guidelines, it is intended to provide sack kraft paper producers, paper sack converters and paper sack fillers with insights into the material and design elements that influence the recyclability of paper sacks. Armed with this information, the value chain can make informed design decisions in order to maximise the recyclability of the paper sacks they place on the market.
Technology and policy relating to collection, sorting and recycling is fast moving.
Subsequently, these guidelines will be reviewed regularly and updated as necessary to reflect the dynamic situation. Users of the guidelines are encouraged to check that they are accessing the most recent version.
Paper Sacks - Design for Recyclability Guidelines, June 2023