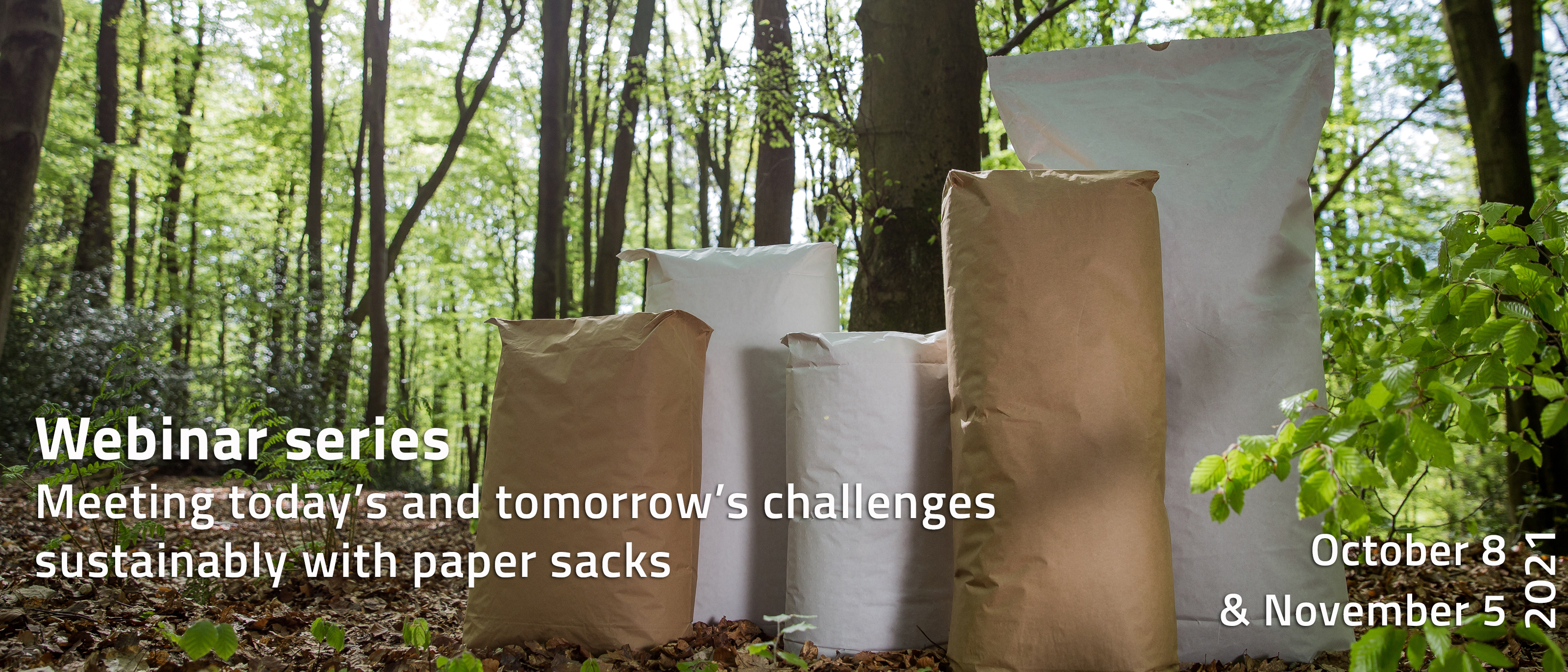 Whether the EU Green Deal, the EU Plastics Strategy, or the EU bioeconomy strategy – on EU level, many initiatives have been launched to support a circular and biobased economy that will influence the future of packaging design and materials severely. In the eye of consumers, packaging plays an important and exposed role as well, as they increasingly pay attention to sustainability in packaging. But switching to a more sustainable and recyclable packaging solution is only one side of the story. A perfect packaging must also meet the highest requirements in terms of product protection, functionality, and cost efficiency.
Meeting today's and tomorrow's challenges sustainably with paper sacks
To stay competitive, companies need to keep informed about upcoming legislations and trends, and packaging solutions that will meet the growing requirements in terms of sustainability and performance – not only for today, but also for the future. Our two-part webinar series will support producers of dry powdery materials in staying ahead of the game and finding the right high-performance packaging for a successful growth into a biobased circular economy. Look forward to exciting impulses and open discussions with other industry specialists!
Our webinars are directed at professionals in packaging, logistics, supply chain, purchase, and procurement as well as professionals working in CSR, marketing and sales at companies producing and filling dry powdery materials who
want to turn their business towards a circular bioeconomy
are looking for a sustainable and at the same time high-performing and cost-effective packaging solution that will also meet future developments
Or everyone else who is interested in the topic.

Session 1: The role of paper packaging in a circular bioeconomy
Date: 8 October 2021
In this webinar, we discussed
views on the impact of upcoming legislation in Europe for paper packaging
why biobased materials such as paper will conquer future packaging
how paper sacks can help you close the loop
why sustainable forest management is the key to sustainable packaging
how paper sacks support you in reducing your environmental impact
The Referents
Session 2: Paper sacks – sustainable packaging with high performance
Date: 5 November 2021
In the 2nd webinar we presented facts and insights about
why you can rely on a perfect product protection with paper sacks
how paper sacks ensure hygiene and food contact compliance
why dusty paper sacks belong to the past
The Referents