In 2021, paper sacks for food accounted for around one sixth of the European paper sack market. After construction materials, food is the second largest market segment of the European paper sack industry. Compared to the previous year, it recorded a slight increase of 2.4%. Across Europe, around one billion paper sacks for food were supplied, 20% of which were paper sacks for milk powder. "If food is contaminated by foreign bodies, germs, environmental or other factors, the consequences can be devastating. That is why it is of particular importance for our industry to offer packaging with optimal food safety", explains Catherine Plitzko-Kerninon, General Delegate of EUROSAC, the European federation of paper sack manufacturers. "Thanks to extensive safety measures throughout the entire manufacturing and supply chain, paper sacks are an extremely hygienic and safe form of packaging."
Careful choice of material and construction
The first step towards flawless product protection is careful selection of the used material. Only virgin fibre paper is used in the production of food sacks. It consists of long softwood fibres, which are processed into a stable fibre network during paper production. This makes the paper particularly tear-resistant and ensures that the paper sack can survive without damage the many different stresses and strains during filling, transportation and handling. In addition, virgin fibre paper minimises unwanted exposure to mineral oil residues and microbiological germs. Thanks to natural water-based inks for printing and adhesives made from vegetable starch, paper sacks that come into direct contact with the product also ensure optimum food safety. Usually, food is packed in open or valve bags made of two or three layers of paper. Where it makes sense, materials with different barrier functions are used. They protect the product against external odours, oxygen, steam and moisture, for example. They can be integrated as a coating, web or tubular film. Special valves, seals and adhesive techniques ensure absolute impermeability, as well as protection against dust and manipulation. In this context, the requirements of the individual product and specifications of the customer determine which materials and construction are used. An inliner can be used when packaging products that require absolute impermeability to meet particularly high hygiene requirements, such as milk powder for baby food or for pharmaceutical applications. It can be welded tightly onto the sack, in order to then later be removed as a whole from the sturdy paper sack packaging for transportation and even used in clean rooms. Other foods, such as flour or starch, come into contact with air and moisture, which can lead to mould growth. A pure paper sack is the ideal packaging for such products, as its natural porosity allows the food to 'breathe'. Protective barriers against moisture are also used when humidity levels in the designated import country are high.
Close-knit quality assurance throughout the entire supply chain
The quality of the materials used is ensured by means of various process monitoring steps, together with analysis and testing methods. For example, appropriate methods are used to test the tear resistance of the sack paper and the barrier film. The European sack kraft paper and paper sack industry ensures protection of the food to be packaged with comprehensive hygiene management throughout the entire production and supply chain. 'On the one hand, European paper sack manufacturers have to comply with numerous legal requirements, both at national and EU level. For example, all suppliers must be certified by an independent, officially approved institute in accordance with EU safety standards for food packaging suppliers,' says Catherine Plitzko-Kerninon. 'On the other hand, customers often have their own requirements for hygiene, quality and product protection.' In particular, this is the case when it comes to packaging for baby food, and for pharmaceutical and certified halal and kosher products, she explains. With their strict audits, customers often exceed the requirements of the Global Standard certification from the BRC/IoP (British Retail Consortium/Institute of Packaging). This is the certification with the most stringent specifications for food safety in Europe. In addition, European paper sack manufacturers carry out audits with suppliers, migration tests and a HACCP (Hazard Analysis and Critical Control Points) analysis. This includes measures for all production steps and areas – from the delivery of raw materials to the inspection of the finished sack. For example, it must be ensured that the lorries are suitable for transporting food and that the goods are supplied in hygienically optimal packaging. The paper must be protected against moisture and mould during storage and the adhesives used for bonds and seals have to be regularly checked. This prevents against the risk of contamination with foreign substances that could penetrate the sacks during production. In addition to this, site safety and hygiene come into consideration. These topics range from access control and site monitoring to regular cleaning and pest control, the division of production into different hygiene zones, and training of staff.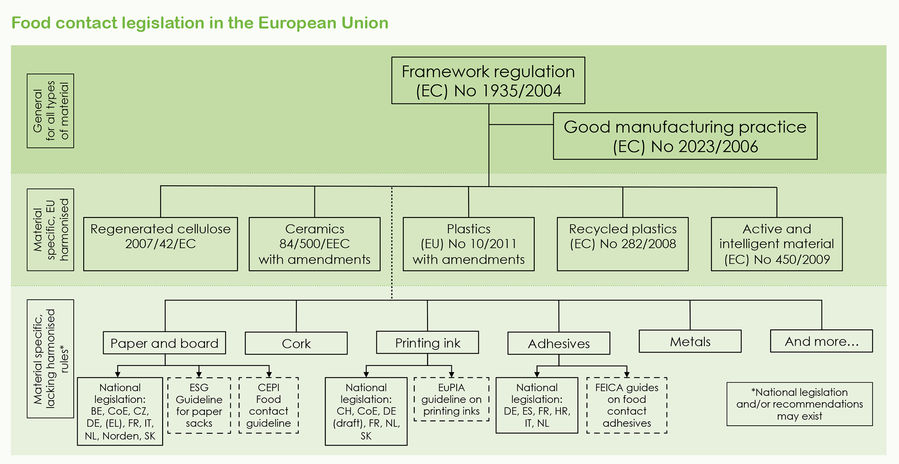 Guidelines for food contact conformity
All materials processed in the paper sack must be taken into account in order to comply with the requirements for packaging that comes into contact with food. This also applies to the type of food that is packed in the sacks. Whether the food has a greasy surface, contains fats, or is dry or moist comes into consideration, for example. The conditions of use and the storage period and temperature must also be considered and recorded in writing with regard to food conformity. "The legislation for materials that have contact with food is very complex. And it is a very dynamic area, partly because countries can set their own rules," Plitzko-Kerninon says. "In order to support our members in complying with the requirements and conveying the necessary information on food contact conformity to food manufacturers, the European Paper Sack Research Group (ESG) has developed guidelines for paper packaging with food contact." The ESG is a joint project from EUROSAC and CEPI Eurokraft. The guidelines explain who is responsible for compliance with food contact regulations at each stage of a paper sack's life cycle. It presents a structured approach to the existing rules and provides concrete recommendations for implementation. In that context, the document contains all the relevant national and European regulations as well as an overview of the procedures required for the collection, evaluation and documentation of the necessary information. For example, paper sack manufacturers can read up on the conditions under which migration tests are to be carried out and conformity documentation issued. "Since the legislation is currently being revised by the European Commission, we expect further adjustments," says Plitzko-Kerninon. "We hope that in the future there will be material-specific legislation for paper and different thicknesses of cardboard. That would greatly facilitate compliance with food contact regulations."
Traceability for maximum safety
Another important factor in order to be able to offer product safety in the subsequent stages of the supply chain is complete traceability of the paper sacks. For this purpose, all raw materials used for paper sack production are marked by the suppliers with batch numbers: from the paper and adhesive to barrier films and printing inks. The paper sack manufacturer transfers these numbers into its ERP system. The production log then records the batch from which a certain material flows into a production order. In addition, the produced item is marked with batch numbers – either visible on the paper sack or hidden, for example in an adhesive seam under the valve or under the floor sheet. If a customer reports a technical problem with a sack during filling, the paper sack manufacturer can check whether it is a one-off quality deviation or if other batches could be affected, which then need to be recalled. Another advantage of paper sacks is the packaging size of a maximum of 25 kilograms, which allows easy handling. The paper sacks can stand safely and stably and easily be stacked on pallets. They can also be opened and resealed without difficulty. Furthermore, they impress in terms of sustainability. They are made from natural, renewable raw materials derived from sustainably managed forests and can be recycled at the end of their service life. In Germany, there is a return system for this purpose that processes the used paper sacks into a high-quality secondary raw material that can itself be processed into new paper products. "Paper bags thus not only offer optimal protection for the food to be packaged, but also make an important contribution to the environment," says Plitzko-Kerninon.
This article has been translated from "Im Papiersack Lebensmittel hygienisch und sicher verpacken", Der Lebensmittelbrief, Edition 4/22, August 2022
Im Papiersack Lebensmittel hygienisch und sicher verpacken, Der Lebensmittelbrief, Edition 4/22