High-performance packaging
Paper sacks meet the highest performance standards, while at the same time being a cost-effective and environmentally friendly packaging choice. Whether using special fibres to ensure strength, special barrier materials to ensure moisture protection and long shelf life or special sack constructions to ensure quick filling and easy handling, paper sacks are the no. 1 packaging choice for numerous powdered goods – from cement or other building materials, to food or animal feed products, and chemicals or minerals. They offer functionality, sustainability and cost-efficiency.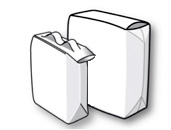 Valve sack
The valve sack is the most common paper sack today. The valve system in a corner of the sack allows high-speed filling with automatic sealing as the sack is filled to its capacity. This type of sack is especially used to pack powdered products such as cement.

Pinch-bottom sack
The pinch-bottom sack is a flat or gusseted open-mouth sack which is usually totally leakproof. It is thus even usable for products such as chemicals or foodstuffs which must be particularly protected during transport and storage.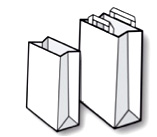 SOS sack
The SOS open-mouth sack allows quick open-mouth filling, especially for granulated products such as food products or animal feed. It has a rectangular bottom and therefore excellent stability faculties. The consumer can easily open and reclose this packaging. The SOS sack can also be used as a compost sack or refuse sack.
Also interesting

Grand Prix - the latest industry innovations